Magdalena Lis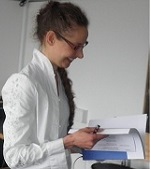 Magdalena Lis holds a Ph.D. from the Centre for Language Technology, University of Copenhagen.
She has been working in the area of Corpus Linguistics, Cognitive Semantics and Multimodal Communication. She has a.o. created a framework for investigating multimodal communication using wordnets – electronic semantic-lexical networks.
Magdalena's research within the project "Common Language Resources and their Applications" (CLARA) was situated in the work package Multimedia and Multimodal Communication Modeling in collaboration with the Max Planck Institute for Psycholinguistics in the Netherlands.
---
Publications:
2014
2013
Navarretta, C. & M. Lis (2013). Multimodal feedback expressions in Danish and Polish spontaneous conversations. In: NEALT  series, No. 21
Lis, M. & F. Parrill (2013). Referent type and its verbal and gestural representation: A test on English multimodal corpus and WordNet® 3.1. In: Proceedings of the European Symposium on Multimodal Communication (MMSym'13), Valetta, Malta (abstract)
Lis, M. (2013). Gestural Representation in the Domain of Animates' Physical Appearance. In: Proceedings of the Tilburg Gesture Research Meeting, Tilburg, the Netherlands
2012
Lis, M. (2012). Influencing Gestural Representation of Eventualities: Insights from Ontology. In: Proceedings of the 14th ACM International Conference on Multimodal Interaction (ICMI'12), Santa Monica, CA, USA
Lis, M. (2012). Annotation Scheme for Multimodal Communication: Employing plWordNet 1.5. In: Proceedings of the Formal and Computational Approaches to Multimodal Communication Workshop. 24th European Summer School in Logic, Language and Information (ESSLLI'12), Opole, Poland
Lenkiewicz, A., Lis, M. & P. Lenkiewicz. (2012). Linguistic concepts described with Media Query Language for automated annotation. In: Proceedings of the Digital Humanities (DH'12) conference, Hamburg, Germany
Lis, M. (2012). Polish Multimodal Corpus ― a collection of referential gestures. In: Proceedings of the 8th International Conference on Language Resources and Evaluation (LREC'12), Istanbul, Turkey
2009
Lis, M. (2009). Motion Events in Polish: Speech and Gesture. In: Proceedings of GESPIN'09 conference, Poznań, Poland
Monograph:
Supervisors of the PhD: Costanza Navarretta (University of Copenhagen) and Maciej Karpiński  (University of Poznań)
Reviewers:  Patrizia Paggio (University of Copenhagen), prof. Michael Kipp (Augsburg University of Applied Sciences), adjunct prof. Kristiina Jokinen  (University of Helsinki)
Talks:
2017
Multimodal Communication: Linguistic, Cognitive, and Computational Perspectives, at the Department of Psychology Seminar,  University of Hong Kong, December 2017, Hong Kong
2014
Representation of entities in speech and co-speech gesture, at the Workshop on Embodiment in Multimodal Communication, June 2014, Copenhagen, Denmark
2013
Classifying the form of iconic hand gestures from the linguistic categorization of co-occurring verbs, the 1st European Symposium on Multimodal Communication (MMSym), October 2013, Valetta, Malta
Referent type and its verbal and gestural representation: A test on English multimodal corpus and WordNet® 3.1, the 1st European Symposium on Multimodal Communication (MMSym), October 2013, Valetta, Malta
Gestural Representation in the Domain of Animates' Physical Appearance, Gesture Research Meeting, June 2013, Tilburg, the Netherlands (poster)
2012
Multimodal feedback expressions in Danish and Polish spontaneous conversations, the 4th Nordic Symposium on Multimodal Communication, November 2012, Gothenburg, Sweden (poster with Costanza Navarretta as the main author)
Influencing Gestural Representation of Eventualities: Insights from Ontology, the 14th ACM International Conference on Multimodal Interaction (ICMI 2012), October 2012, Santa Monica, USA
Annotation Scheme for Multimodal Communication: Employing plWordNet 1.5, workshop on Formal and Computational Approaches to Multimodal Communication, August 2012, Opole, Poland
Polish Multimodal Corpus ― a collection of referential gestures, the 8th International Conference on Language Resources and Evaluation, May 2012, Istanbul, Turkey
2011
Production of Iconic and Deictic Gesture, Clara Summer School in Semantic and Multimodal Corpus Annotation and Evaluation, 12-26 August 2011, University of Copenhagen, Denmark
Mutlimodal Behaviour Production: Gestural Reference, Summer School on Feedback, Communicative Gesturing and Gazing, May 2011, University of Helsinki, Finland
Motion Events in Polish & Gestural Reference, Multimodal Minisemiar, May 2011, Centre for Language Technology, Denmark
Mutlimodal Behaviour Production, Thursday Seminar, May 2011, University of Copenhagen, Denmark
2010
Multimodality. Theory and Methodologies, invited talk, April 2010, Jagiellonian University, Cracow, Poland
2009
Motion Events in Polish: Speech and Gesture, GESPIN conference, September 2009, UAM Poznan, Poland
Awards and honours:
Marie Curie ESR, funded by the European Commission
Master's Thesis award, prize for the Best MA thesis of the Year (unanimously awarded), Faculty of Arts, VU Amsterdam
Cum laude title (top achievable distinction for theses at Dutch universities)
Scholarship of the Polish Minister of Science and Higher Education
Huygens Scholarship, awarded by the Dutch Minister of Education, Culture and Science
Activities for academic community:
Reviewer for ICMI 2013 (

15th ACM International Conference on Multimodal Interaction

)
Co-organizer of the Summer School on Semantic and Multimodal Annotation
Phd representative at the Institute Council, University of Copenhagen
MA thesis:
Verplaatsingsgebeurens in het Nederlands en het Pools. Taal, gebaren en denken, 2008, Vrije Universiteit Amsterdam, the Netherlands
Contact information:
magdalena dot m dot lis at hotmail dot com